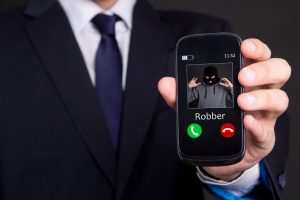 Imagine this: you receive a phone call that (according to your phone's display) appears to come from your neighbourhood – but then it turns out to be from the other side of the world. What just happened? It's easy: you've became a victim of the so called spoofing. And, surprisingly, it's not illegal.
Spoofing is a widespread tactics how to push you to answer the call. Thanks to it, the caller can easily fake the number that appears on your mobile display, so you more likely pick up the phone.
Yes, you get it right. It's no wonder that, lately, the spoofing has been very popular tactics with telemarketers and scammers as well. They can not only make you to answer the call, but they are also hard to track down – since you never know their real phone number.
In this post, we cover:
Spoofing can be legal. In some cases
And now for the surprising part. This so called spoofing isn't necessarily illegal. Let's read what the Federal Communication Commission says about spoofing:
Under the Truth in Caller ID Act, FCC rules prohibit any person or entity from transmitting misleading or inaccurate caller ID information with the intent to defraud, cause harm, or wrongly obtain anything of value.  If no harm is intended or caused, spoofing is not illegal.
Why not to ban spoofing completely, do you ask? It's because there are situation in which the spoofing is not only acceptable, but also necessary. For example, it's often used when communicating with victims of domestic violance who are seeking for help. When the bully wants to check the victim's phone, thanks to spoofing, there's no clue, who the victim was talking to.
4 rules that help you against spoofing
So what to do about spoofing? Here are some rules to follow – if you want to stay (relatively) safe (since it's impossible to avoid spoofing completely).
Never give out personal information such as account numbers, passwords or other identifying information in response to unexpected calls.

Enter the number in question in a search engine. You'll find out if the company has the number on their website or if the company has mention of a scam that is going on. There are also websites that show you what other people are saying about number.

If you get an inquiry from someone who says they represent a company or a government agency seeking personal information, hang up and call the official phone number to verify the authenticity of the request.

Get a free spam blocker with a daily updated database of spam numbers (the scammers usually don't change their spoofed numbers daily, so it helps you to keep up with them).

If you receive a call and you suspect caller ID information has been falsified, you can

file a complaint with the FCC

.