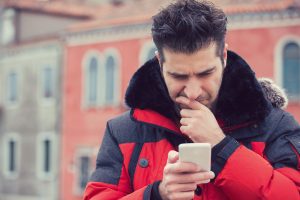 There's quite a lot of different spam and call blockers these days. While some are created by big companies (with everything that follows), other apps, even though less professional, try their best to stay in touch with their users. The Should I Answer app is different. It combines the advantages of these two worlds into one package.
The Should I Answer app is on the list of most popular spam blockers these days. In the beginning it has been released in 2014 and since then, it's been used by millions of users all around the world. It blocks around 10 millions dangerous calls a month (and warns against much more of them, in the same time).
Why it has been so popular for so long? There are a lot of reasons. Read what real users (people like you) consider to be the biggest benefits of the Should I Answer app.
1. The Should I Answer really works
If you're looking for a new spam blocker, this is the thing you want it to do: to block unwanted calls. The Should I Answer won't let you down on this.
Love this. Much more effective than previous apps I have used at blocking unwanted calls. (Lee)

Had a rash of incoming telemarketing calls. I mean non-stop for 2 days. Ever since the app was installed peace and quiet. Thank you! (Jude)

This app has saved me from changing my phone number. It stopped all the bogus calls and gave me back my phone. A huge thank you so much to the developers! (Furman)
2. The Should I Answer has its own, community based database
Unlike other spam blockers, the Should I Answer uses a unique, community based database of negative numbers. Every day, just the Should I Answer users solely write around 20 000 new reviews of phone calls. And more to it, there are more than 10 000 reported numbers through the Do Not Call Registry and Federal Communication Commission. To sum up: the Should I Answer database of possible spam and fraud numbers grows by 30 000 reviews and reports every day.
Some numbers are already flagged by other users and get dismissed. The numbers I flag get dismissed. If everyone used this app it would end telemarketing for good! (Mark)

Crowdsource spam blocking? Best idea ever! (Frank)

The more people who use this the more powerful it will become. I have been using this app for about a month and it has caught and blocked at least 3-4 spam calls based solely on the community ratings. (Jonathan)
3. The Should I Answer protects its user's privacy
We don't want your personal data. We don't collect them, we don't process them for any further use. Even when you're using the Should I Answer app, we don't know your number or any of your phone contacts.
I started to use this app after I found out other app can expose my phone number once when using it. (El.)
4. The Should I Answer can become your default phone app
The Should I Answer Personal can be used as a fully qualified dialer app. You will find everything you need there: a complete call history, all your contacts and possibility to mark/select favorite contacts including pictures or the button for back calling.
Very helpful app. Best is own phone interface when making call which is speeder than my stock phone! 2 problems solved by one app! (Martin)

Without a doubt this is one of the best apps I've ever had! It does just exactly what it says it's going to do, quickly and easily. It makes a noticeable difference in your cell phone experience whether you're at work at home or just enjoying yourself. (Key)

First class app. Cannot recommend it enough, top app on my phone and so glad I found it. Brilliant. (Robert)
5. The Should I Answer is there for you
We're not a big company with hundreds of employers. Still (or maybe thanks to it), we haven't forgotten to listen to our user's needs and advises. Because we're still part of them, on the same boat.
It's a great app with superior developer and team customer support. I rely on it! (C.)
---
Interested in more reviews? You can check it for yourself on Google Play anytime (either for the older Should I Answer app, or for the newer Should I Answer Personal).
---
(Not an Android user? Let's check the new app for your iPhone)