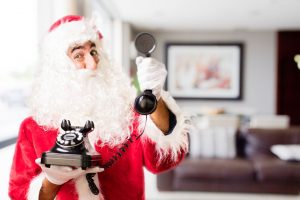 We know who's gonna call you this December. And we're not talking about your friends. Keep reading.
Yes, it's here again. Christmas, the time of peace, love… and spam calls.
It's no wonder we're so vulnerable at this time of year. When Christmas comes, our giving mood combined with our effort to solve all incoming calls as quickly as possible make us ideal scam targets.
However, there is a good news, as well. Some Christmas spam calls tend to be more popular than others. And that's why we've already known by now what to expect this year.
3 types of spam calls you'll receive this December
Charity calls
In general, though sometimes annoying, charity calls are not a bad thing. You're given a chance to donate money for a good cause and, in fact, there are a lot of charitable organizations that use your donations to make a real difference in the world. However, your generosity can backfire on you.
Because when Christmas comes, we're easier to be emotionally manipulated with. And charity callers know it. If you don't want to fall for scam (or if you "just" want to avoid donating under pressure), you should always follow 5 simple rules we described in one of our latest posts.
Text messages with fake gift cards offers
The chance of getting something for nothing is tempting, especially before Christmas. And scammers know that. So they hide their true identity behind big brands like Footlocker, Wal-Mart, Amazon or Zara and pretend to offer you a free gift card.
How? They usually send you an email or a text message, either trying to get your personal data (or your company's data) or trick you to click a malicious link (and download a malware to your computer or phone). So instead of a gift card you get just a serious headache.
Telemarketing calls
December is a tough month for telemarketers. Before Christmas, they need to convince you to buy all this stuff you don't need at all. And once it seems to be finally over, they're starting their preparations for New Year's sales.
In December, telemarketers just can't take a break. And neither can we, the customers. The result? We're flooded with telemarketing calls that seem never to stop.
How to get rid of spam calls (not only) in December
If you don't want to put up with all these kinds of unwanted calls anymore, you have three options. Turn off your phone, throw it away (and wait for Santa to bring you a new one) or get an effective spam blocker.
We believe in the third option. That's why we created the new and improved Should I Answer app. For years, it's been popular with millions of people all around the world. And that's also the app's greatest strength.
The Should I Answer app is based on a community spam database (there are 30 000 new reports daily!), so it can block all incoming spam calls for you. It's also perfectly safe: your data and personal information never leave your phone.
Say goodbye to spam calls and robocalls this Christmas.  Try the new Should I Answer app 🙂