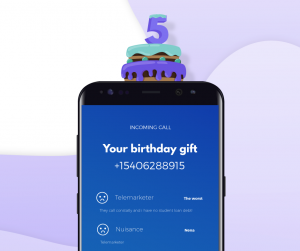 This month, there are at least two good reasons to celebrate. First, it's been exactly five years since the Should I Answer project was born. Secondly, we have cookies for everybody! … uh, did we say "cookies"? Me meant "presents"! Read on 🙂
In the last five years, the Should I Answer project has come a long way. Originally, it was created as a website where everyone could share experience with robocalls, telemarketers and other kinds of spam calls. Nowadays, it consists not only of a unique web database of negative numbers, but also of mobile apps for Android and iOS. Those serve as effective and reliable spam blockers (based on community reviews). 
In spite of these changes, our main goal has never changed. We've always believed that real people are not helpless against big telemarketing companies and scammers. And we're happy that this belief is shared by so many people all around the world. Nowadays, the Should I Answer apps and website have more than 2.000.000 users a day!
Day by day, this project has been created by its users. And every single one of them deserves not only a big "thank you", but also a reward. So here it is.
New weapon against scammers
Exactly five years after we have launched the first version of this website, we proudly introduce you the new Should I Answer app – a new spam blocker for your Android. It uses the same database as the previous versions and its purpose remains also the same: to warn you against spam calls or, if you prefer, to block them before they even call.
However, at the same time, we improved it in many ways. It's more user friendly and easier to use. It's also completely anonymous – you don't even have to log in it at all. Since the new Should I Answer app doesn't need to know any of your personal details, your email or your IP address. As a result, your privacy is even safer than before. It's also been optimized for newer Androids. 
Right now, this new app's being beta tested. Once we'll release it you'll be the first one to know! Till then, you can get the beta version. If you face any difficulties, please, let us know!