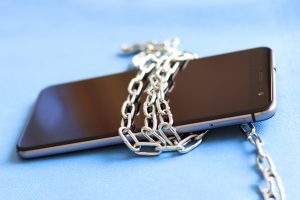 Hey, you… yes you! Sorry for not addressing you personally, but we have no other option. Because, unlike most other services, we don't know your personal data. And what's more: we really don't want to.
Short version: We don't want your personal data. We don't collect them, we don't process them for any further use. Even when you're using the Should I Answer app, we don't know your number or your phone contacts.
Now let's be a little more specific.
We're not one of those apps
Smartphone apps are tricky. They can improve your life in so many ways – but, at the same time, they can make it a living hell. Since they can provide you with entertainment, information or useful services – but they can also invade your privacy.
Nowadays, most apps can trace your habits, look into your contact list, make phone calls without your knowledge, track your location, examine your files and more. They can also automatically send information such as your general human behavior.
When we were creating our Should I Answer app, we didn't want to be one of those apps. We've always sided with real people against big companies – and we've been sticking to it till now.
So, in contrary to other apps that make living of selling their user's data to big companies, we've chosen another path.
Should I Answer protects your privacy
The Should I Answer app, your ultimate protection against unwanted calls, works strictly on anonymous basis. We're interested neither in your phone number nor in your phone contacts (unlike most similar services, to say honestly) – so those information stay safe in your mobile phone, they're never sent to our servers.
There is only one thing we know about you: your first name. We also track the anonymous stats about incoming calls from unknown numbers, since it helps us to reveal new threats in the world of telemarketing and phone scam. But again: these data aren't connected to any user or mobile phone number, so they have strictly statistical meaning.
Frequently asked questions about privacy and the Should I Answer app
We want you to have all possible information about how the Should I Answer app works, so we wrote some often questions down. Here they are – with answers, as well.
The Should I Answer app needs an access to my contacts. Why?
There's only one reason: whenever a new call comes, we need to know, if it comes from an unknown number, or if it's already in your contact list. And that's it 🙂 We're not sending your contacts anywhere, we don't even "see" them – everything is happening in your phone, not on our servers.
Why do you need my email address?
In the latest version of the Should I Answer app, we added an email login, since we wanted to allow you to manage better your own reviews. (In the previous version, there was no login, so you could neither delete nor edit your own reviews in some simple way.) We have added email login only for this reason – so don't worry, your email address always stays safe with us. We will probably send you some welcome email after installing the app, but that's it. In case of any further information sent from our side (e.g. for new versions, changes, improvements etc.) we will ask you for separate approval which can be rejected simply any time.
Do you collect reviews for personal numbers?
No, we don't. Whenever receiving a review for personal number, our administrators try to delete it immediately. We only collect reviews for telemarketing, companies' and spam numbers. If for any human mistake some personal number has a review on our pages please notice us, we will delete it ASAP.
If you're not selling our data (and the app for Android is free, as well), what are you living of?
Our main goal when creating this application was to make a tool to fight against unfair telemarketing and unsolicited calls. This is why the app is free: our only income is from the advertisements displayed on the web pages www.shouldianswer.net (and other related sites) and voluntary donations from our users.
---
The Should I Answer was created as a "from people to people" app. And we want it to continue this way. Do you have a question? Or do you think there's something to improve about the app? Let us know! You can address us through our Facebook page anytime 🙂