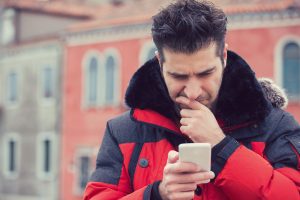 Can you tell a scam from a legitimate call? Sometimes it's easy. However, scammers are resourceful. And lately, they've been using a new (and a very effective) trick.
Your phone rings, you answer it and just few seconds later you're about to start panicking. As you are told, your social security number has been compromised. Or involved in a crime. Sometimes, they even say your bank account is about to be seized.  Luckily, there's a solution (at least that's what they tell you). All you have to do is to confirm your social security number to reactivate it.
In fact you haven't found out yet – yes, this is a scam. And it's been exponentially growing. According to the Federal Trade Commission's report, in 2018 more than 35,000 people have reported the scam, and they've lost $10 million.
How to tell a social security scam from a legitimate call
Don't want to fall for this new trick? Always remember these 4 rules.
1.
The Social Security Administration will never call you to threaten you. They also never instruct you to wire money, send cash, or put money on gift cards. As Anyone who tells you to do those things is a scammer. Every time.
2.
Never tell any part of your Social Security number to anyone who contacts you, especially via phone call. The Social Security Administration will never do that.
3.
Don't believe what you see on the caller ID. Because scammers are using spoofing to fake it to look like a real SSA number (1-800-772-1213). Don't let them fool you.
4.
If you're worried about what the caller says, hang up and call 1-800-772-1213 to speak to the real SSA. Always confirm with the real SSA before responding to one of these calls.
Get protection against scammers
And yes, there's one more thing. Because no matter how careful you are (or better to say – how careful you have to be these days) when dealing with strangers over the phone, you're always getting a raw deal here. Scammers know what they're doing. And they know all of our weak spots.
Protect yourself. Get the new and improved Should I Answer app. For years, it's been popular with millions of people all around the world. And that's also the app's greatest strength. The Should I Answer app is based on a community spam database (there are 30 000 new reports daily!), so it can block all incoming spam calls for you. It's also perfectly safe: your data and personal information never leave your phone.