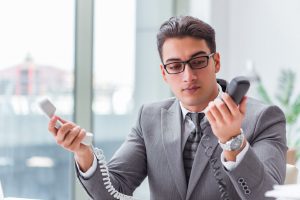 Blocking a number that keeps on bothering you again and again? Piece of cake. But what about blocking a spam number that haven't even called you yet? Yes, it's possible. And no, you don't need a time machine.

Blocking spam calls seems to be easy. And it is, in fact – in that case a spam number has already called (since both iOS and Android phones offer integrated options to stop unwanted calls).
But what to do if you want to block a number that haven't even called you yet? It's easy. And here's how you do that.
Get the Should I Answer app, either for Android or for your iOS mobile.

Run the app and choose the Block negative calls option.

Done 🙂
How does this blocking in advance work
Nowadays, there are a lot of different call blockers. However, the Should I Answer app has something that makes it really unique – a huge scammer database of possible spam and fraud numbers which grows every day by 30 000 reviews and reports!
It means that whenever an unknown number tries to call you, the app check it and, if it's another spam number, it blocks it. Before they even reach you. And that's it.
By the way, the Should I Answer app offers advanced blocking options as well. For example, you can block hidden numbers, foreign numbers or even all numbers that are not stored in your contacts.
(Not an Android user? Let's check the new app for your iPhone)