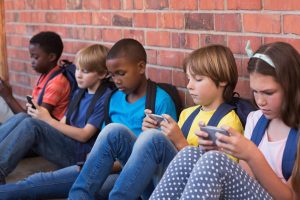 A kid's first phone is a huge step. It helps you to stay connected, however, at the same time, it can cause a lot of troubles. Here are some suggestions that might help.
As children get older, they need more and more freedom. They want to walk to school alone, run out with friends, or go to a local candy store without an annoying parent behind their back. A mobile phone is a great way how to stay connected. However, you should follow some rules when considering buying a first cell phone for you kid.
5 useful tips for parents
1. Always keep in mind that a child's first cell phone has but one simple purpose: to keep parents and kids connected. If you don't need your child to browse Instagram, watch YouTube videos or add new posts on Facebook, you will probably want to go with a basic screen-free cell phone. Also focus on devices that are hard to break.
Additional resources for first-phone decisions are available at the non-profit ConnectSafely.org, including a printable Parent's Guide to Mobile Phones, sponsored by CTIA and major carriers.
2. Protect your child's cell phone against all kind of threats. Instruct your child never to leave their device unattended in a public place, also establish a strong password to restrict access. Install and maintain anti-theft software.
3. If your child's phone allows an access to Google Play or App Store, consider getting a parental control lock. 
4. Teach your child about robocalls and spoofing scams. Install a reliable anti-spam protection, such as the Should I Answer app, which blocks all unwanted and nuisance calls.
5. Consider purchasing a matching case. Choose one with a drop-tested durable shell, also don't forget a reliable screen protector.