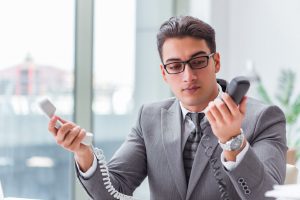 Have you noticed a missed call on your caller ID? Read how you can tell who really called you.
To call back, or not to call back? That's the question. 
Missed calls can be tricky. If you're not lucky enough, you call back – and just by calling, you lose a lot of money. On the other hand, if you don't call back, you can miss an opportunity of your lifetime.
Luckily, there's a solution. Whenever you want to know if the missed call is worth calling back, look it up on the Should I Answer website. For free. 
Just follow these steps:
Go to

www.shouldianswer.com

. 

Type in the unknown number. 

Find out who called. 

Done 🙂 
How does the lookup work?
The Should I Answer app website (and the Should I Answer spam blocker, as well) uses its own database of spam numbers. This daily updated databases has three sources: all numbers reported to Do Not Call Registry, all numbers reported to Federal Communication Commision and, most importantly, all community reviews from the Should I Answer app and from our website. Nowadays, the app grows by 30 000 new reports every day.
So even though you won't find any names here (the Should I Answer project works strictly on an anonymous basis), you'll always know if the missed call is worth calling back.