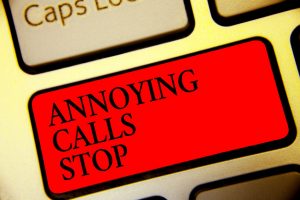 Robocallers are resourceful and, sometimes, spam calls can reach you even with the best protection possible. Read how you can tell the Should I Answer app has been really protecting you.

The Should I Answer app is a useful tool. It recognizes incoming spam calls and according to your preferences, it either warns you against them or blocks them completely. 
How does the protection work?
The Should I Answer app uses its own database of spam numbers. This daily updated databases has three sources: all numbers reported to Do Not Call Registry, all numbers reported to Federal Communication Commision and, most importantly, all community reviews from the Should I Answer app and from our website. Nowadays, the app grows by 30 000 new reports every day.
Whenever an unknown call comes, the app looks into this database. If it finds out the caller has been reported as "spam", it warns you before you answer the call. You can also set the app to completely block incoming spam calls (in the app's Settings).
Are these community reports effective?
They are not only effective. This is the most effective way how to react to the growing threat of spam and robocalls. Because the real people are always the first to know when a new threat appears.
A spam call has come through. What to do?
Are you using the Should I Answer app, and a spam call still went through? Here's what to do.
Set the app to block incoming spam calls.
By default, the app only warns you against negative numbers. If you want to block them instead, go to Settings and set the app to block numbers reported by community as spam. To do this, you need to have set the protection level to Active. This is something you can do anytime in the app's Settings. You can select the level of protection on the Community database sensitivity bar, as well.
Report the number. 
The app blocks only those spam calls that have been already reported as negative (usually by other members of the Should I Answer app community). If nobody has reported the number yet, the call won't be blocked. If you report a number as a spam, the app won't protect only you against this number, but other Should I Answer users as well.
Block the number manually.
You can always block a single number. Tap on it in the app and choose the Block option. You can also block a number that haven't even call you – just add it to your Blacklist (in the app's main menu) Remember, this single blocking won't add the number to the spam database, it just blocks it only for you.