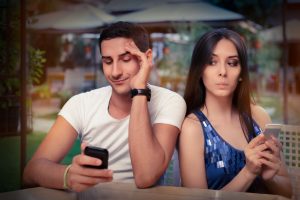 You can do things by halves. Or you can do them right.
In the last few years, privacy has become one of today's most valuable commodities. We're not exaggerating. Since this is the fact: whenever you visit a website, log in to your email, post an update on Facebook, or download an app, you inevitably leave digital footprints that can be tracked and traced back to your identity. And there are a lot of people who can (and will) take an advantage of it.
So we've chosen another path. And we made the Should I Answer app as anonymous as possible.
The Should I Answer app versus your privacy
Unlike a lot of other spam blockers, the Should I Answer app works strictly on anonymous basis. We're interested neither in your phone number, nor in your phone contacts. Those information stay safe in your mobile phone, they're never sent to our servers.
And it gets even better. When using the newest Should I Answer app (2019 version), you don't even have to log in it at all. Since the new Should I Answer app doesn't need to know any of your personal details or your email. (Yet you still can backup your own data – with an anonymous account.)
Keep your information private. Think of everything you share online. And remember: your phone number is one of the most private information these days. Don't trust the spam blockers that share your number with the whole world. Get the safe Should I Answer app.