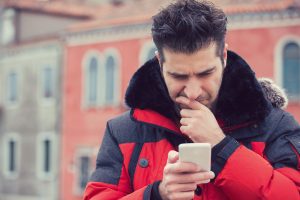 It's almost like a movie scene. Your phone rings, you look at a display, and you can't believe your own eyes. Since the person who's calling appears to be you.
No, this is not another "your future self is calling to give you a life-changing advice" scenario (as cool as that would be). It's just a scammer making an illegal robocall.
"I wasn't paying attention to who was calling me. So I just picked up my phone and answered it. It was silent for like 5 seconds and then the caller hung up. I checked the caller ID and found out it was my own phone number!" says a guy with internet nickname RetroGeek24.
It's not an isolated case. Millions of people all around the world report the same "encounters with themselves". "I look at the phone, and it's me," wonders Mark from Boston. "How am I calling myself?"
Hello, it's me. The scammer who use your own number
Despite the whole weird sci-fi feel, the answer to this "who called me" question is quite simple. Since (as you probably know by now) it wasn't your own number that called. You just became a victim of the so called "number spoofing".
Nowadays, modern technology makes it easy for scammers to fake information that appears on your caller ID. They can make it look like they're calling from a different place or phone number. Or even from your own number.
Their goal? Scammers hope you'll be curious enough to pick up. And that they convince you to give them important or sensitive information over the phone. Like your social security number. Or your credit card information.
Here's what you need to do against spoofing
Step one: if not sure who's really calling, just don't pick up the phone. Sometimes, scammers are only testing what numbers are really working. Which means that answering their call may actually lead to more incoming spam calls in the future.
Step two: try to avoid these spoofed calls completely.
And yes, about this… Here's the fact. When it comes to spoofing, there's no such thing as a perfect solution. Though, you can get pretty close.
With the Should I Answer app (an effective call blocker that works for millions of people all around the world), you can get rid of neighbor spoofing (almost) completely. Read how to do that, step by step.
How does the Should I Answer app work
The Should I Answer app is a community project. All number reviews come from real experience of real people. And unlike some other spam blockers, the Should I Answer app works strictly on anonymous basis. Which means but one thing. Even when using the app, all your personal information stays safe where they belong to – in your phone.