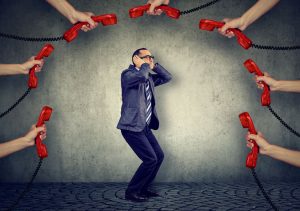 Do you ever wonder why have you been receiving so many spam calls lately? We do. And here's what we found out.
Nowadays, it's easier than ever for telemarketers to get your phone number. It's because your phone number is visible almost everywhere: on business cards, in email signatures, and even in your pizza orders.
At the same time, your phone number is a very lucrative business item. There are even companies that focus solely on getting it and selling it to the highest bidder. What to do against this? Don't let telemarketers get your number so easily, and avoid these three common mistakes.
You share your phone number everywhere
An online form, an account setting on social media or an email signature. Are you used to sharing your phone number almost everywhere? You put yourself at risk. Because whenever you enter your number into a web form or anywhere else, there's a huge chance it will end up in someone else's hands than you expected.
You don't read the Terms of use
There are apps that are perfectly safe for you… and then there are others. In fact, there are apps that are created with but one goal in mind: to get (and sell) your personal information, including your phone number. So be careful, especially when you mindlessly click "agree to the terms of use and privacy policy" again. 
By the way, some mobile operators also like selling phone numbers of their clients. Consent to provide your number and other data is included in every contract you sign with an operator. Therefore, before you sign up to anything, read the contract and, if necessary, request that the passage that regulates the use or giving away of your contact details is deleted.
You recklessly borrow money
Do you know that whenever you apply for a loan, you voluntarily give up your personal information in the process? The price is high: loan companies are happy to resell your personal data to a third party.
What to do about it?
Sometimes even following all the good advice isn't enough. Telemarketers are getting more and more inventive and will stop at nothing. The simplest solution is a mobile app that can identify nuisance calls and warn you before you pick up (or block them right away). 
One of the most popular ones is the Should I Answer app. Unlike similar apps, it's based on a user rating system, so the database of rated numbers is growing every day. That's why today millions of people around the world use the Should I Answer app. You can download it for free for your Android at any time.  (Don't use Android? Try the app for your iPhone.)