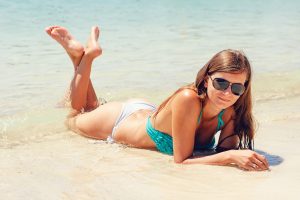 You may be heading to a vacation right now, but scammers don't take a break. What you should be most wary about?
Right now, it's all about sunshine and pools. However, scammers are always out there, waiting for any slightest mistake you make. Oh yes, here comes the summer – the happy time of sun, beaches, umbrella drinks… and summer scams. Read how to recognise the so called travel scam and how to avoid summer scam calls completely.
What's wrong with travel scams?
It has probably happened to you as well. You pick up the phone to receive the wonderful news: you've won a free vacation! But then you remember: you didn't enter a contest, so how could have it happened?
Here's an important fact: these "free vacation" offers don't have to be necessarily scam. However, it's a huge grey area. Since even when you get your free trip in the end, there are always a lot of "buts". 
Here is what you have to be most careful about.
1. To get your free trip, you need to pay up-front fees: Companies pushing a "free" vacation will probably want something from you: usually they pressure you to buy "extras" or "add-ons" for the vacation. Find out what your costs are before agreeing to anything. 
2. It requires you to attend a live presentation: Another scam approach is to require you to attend a live presentation to claim your prize. And believe us: it's not a pleasant experience. 
3. The caller asks you for your credit card details: Be aware, especially if they say it's to verify your identity or your prize. When on the phone, never give your credit card number away. 
4. You're pressured to sign up for a travel club: They promise you great deals on future vacations – under one condition. You need to sign up for their travel club. But remember: this is a very bad deal for you, since travel clubs usually have high membership fees.
How to avoid travel scam?
When receiving this type of spam call, never press a number to be removed from a call list. Even when you're told to. Instead, just hang up. This is mostly a test to see if your phone number is in service, and if you press a number to remove yourself you'll often end up receiving even more nuisance calls.
Also, get a reliable protection against robocalls and scam calls that will get you rid of all unwanted calls for good (and for free, as well). Learn how to get a call blocker. Or get a free spam blocking app for your Android right now.